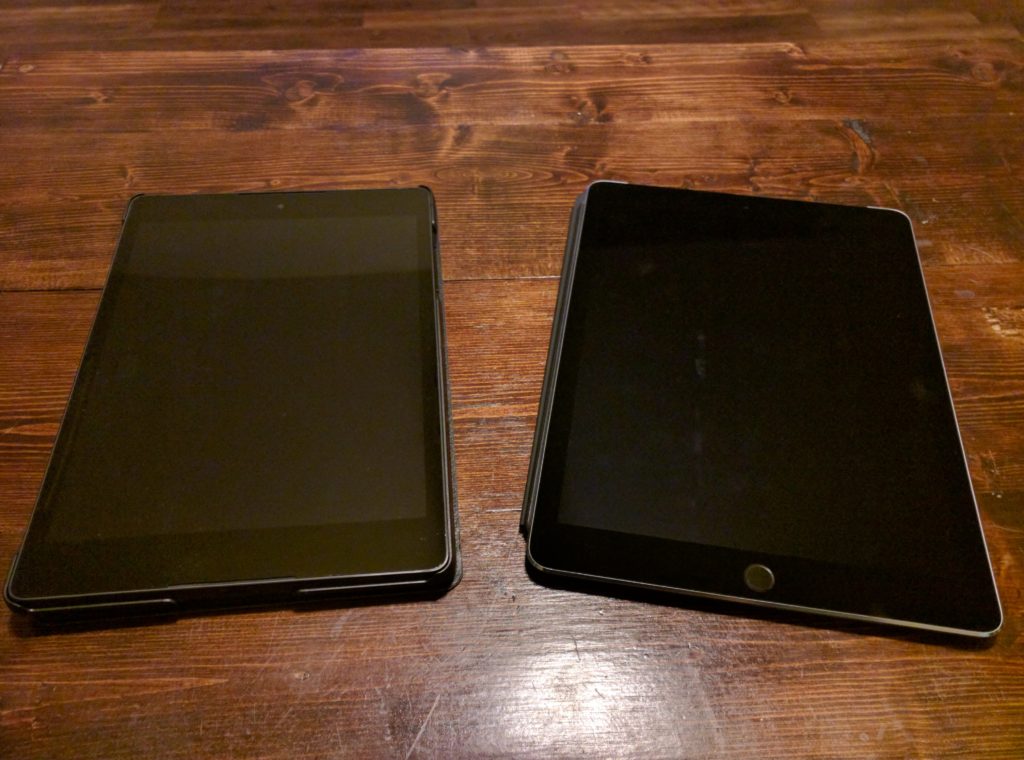 There used to be a question about whether Android or Apple iOS based devices were the best to buy when looking for an Electronic Flight Bag or EFB. For the moment that debate seems to have been settled with the iPad clearly winning, but Android tablets are still a less expensive and attractive alternative to the increasingly expensive Apple devices. So the question then: if you go Android, are you missing anything?
There are a good number of aviation apps on the Google Play store but really the only one worthy of discussing is Garmin Pilot. The app, available both on iOS and Android, offers the full suite of tools that you would expect from an electronic flight bag and allows you to completely plan your flight from walk-around to tie down.
When I first started flying with Garmin Pilot there were some pretty big differences between the iOS and the Android application, with the Android app seeming to get an update long after the feature was made available for the iPad crowd. Recently it seems like the two versions have caught up
The following chart compares Android version 7.1.3 to iOS version 9.5.2, identifying the key features I use on a near constant basis and their status on both platforms as well as some other functions:
| | | |
| --- | --- | --- |
| Feature | Android | iOS |
| Worldwide Moving Map | Yes | Yes |
| Geo Referenced US VFR and IFR charts | Yes | Yes |
| Geo Referenced US Instrument Procedures | Yes | Yes |
| Worldwide Charts Available | Yes | Yes |
| Aircraft Weight and Balance | Yes | Yes |
| Flight Planning with Fuel, Weather, and CG | Yes | Yes |
| Integration with GDL-39 and Other Sources | Yes | Yes |
| Ability to file and manage FAA flight plans | Yes | Yes |
| Aircraft Checklists | Yes | Yes |
| Pilot Logbook and Automatic Track Log | Yes | Yes |
| Synthetic Vision functionality | Yes | Yes |
| Jeppesen Account Integration | No | Yes |
| FltPlan.com Integration | No | Yes |
The last two on the list are pretty much the only differences I can see at this point, and for a private pilot who doesn't have a Jeppesen or FltPlan.com account I don't have any issues with that lack of functionality in Android.
The Android version of Garmin Pilot still feels like a second place option to Garmin, getting slower updates and not having all of the features. But the features you absolutely need to complete a flight, even the ones that just make like easier like the weight and balance calculation and the logbook functionality are present and capable in each.
Like I said at the beginning this is kind of a moot point, the iPad is the dominant EFB of the day. That might change, but the real reason that I like this parity between iOS and Android is this: the ability to have a backup option.
There's no way I'll switch it an iPhone, I'm too happy with my Google Pixel 3 XL. But with that phone I essentially have a smaller and just as powerful device that I could potentially use to assist in navigation in the very unlikely case that my iPad dies mid flight. Since I ditched my paper charts and went 100% electronic I appreciate knowing that if that worst case scenario happens I still have something I can use.
The nice thing is that Garmin makes that scenario very easy. One subscription can feed up to three devices no matter the operating system, and your important data (aircraft, logbook, etc) are synchronized between them and stored in the cloud for you.
So, is there a difference in the two versions? Right now, not one that most people will care about. And that's a good thing for those of us who like our iPads but love our Pixels.