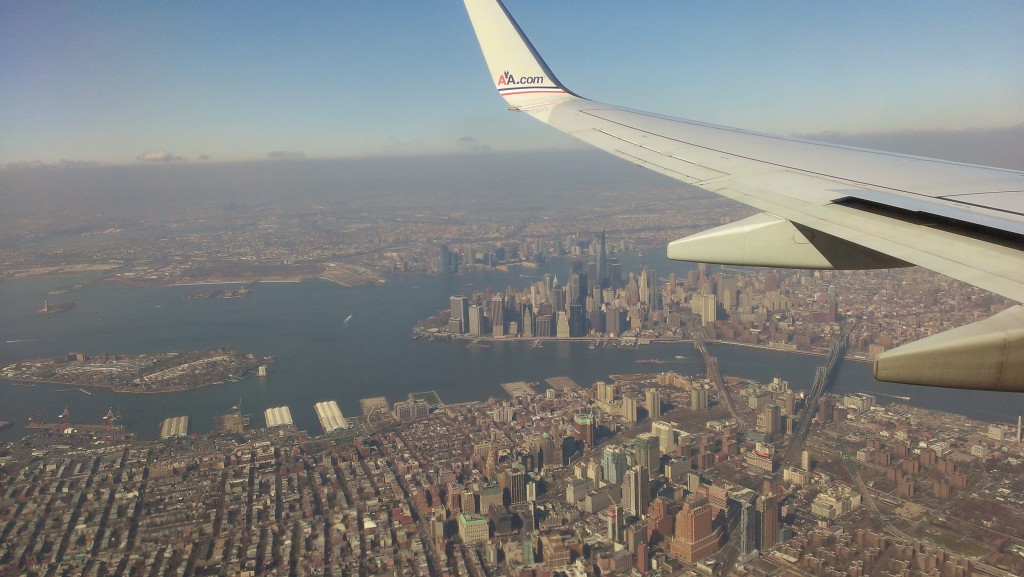 For my 30th birthday my amazing wife bought me an afternoon in the Concorde flight simulator at the Brooklands museum just outside London. Being based in Austin, Texas however meant that we needed to book a trip to London. My wife already had enough miles to meet her status goals for the year on American, and after doing the math we figured that a round trip in economy would be enough to get me to crack that dollar spend requirement as well.

After doing some research online we heard about how American Airlines is re-fitting their 777-300ER fleet with an Economy Plus cabin and an interesting quirk of the seat layout that caused row 20 in regular economy to only have 8 across seating (4 middle seats and a pair of seats on each side) instead of the regular 10 across seating plan. The articles we read at the time (from late 2017) were written prior to anyone actually having seen the layout, but we took a chance and booked them hoping that the single pair of seats was really as good as it seemed and that AA hadn't snuck in a third seat somewhere along the way.

Our routing for this trip took us from Austin to JFK on their non-stop once daily 737 flight connecting on to AA's flagship overnight transatlantic flight (AA100) from JFK to London Heathrow (AA1 being the JFK to LAX route). The return trip we chose to go through Dallas instead so we could spend more time in the potentially better seats rather than cramming ourselves back into a packed 737.

Once on the aircraft we were delighted to see that the seating chart was indeed correct, rows 20 and 21 on the 777-300ER refit are indeed only 8 across. And row 20 is definitely the best deal.

Row 20 is a bulkhead row, where there are attachment points for a bassinet to hang from the bulkhead itself (for those traveling with very small children). Probably due to the need to have extra space for this small child to perch precariously on the side of a wall there's a generous amount of legroom available for people in these seats. I'm a 6' 2" guy and I was pleasantly comfortable throughout both the overnight flight to London and the flight back to Dallas.

The reason why rows 20 and 21 are both 8 across instead of 10 across is readily apparent as soon as the drinks carts come rolling out. Because of the seat width in Premium Economy the aisles don't exactly match up. The center section in Premium Economy is wider than regular economy by a few inches, more in line with the other premium cabins such as Business and First. In order to allow the food and beverage carts to navigate that transition they need a little bit more room, specifically about one seat's worth right at that point.

The benefits of the seat are readily apparent. Couples traveling together can be assured that there's no one else who will be sharing their row, and husbands can rejoice that they won't be crammed into a middle seat on a transatlantic flight. Again. The extra room on the end also means that there's less of a chance of the drinks cart bashing into your legs if you sit on the aisle, but you probably will notice a little more noise and rukus than usual as the flight attendants try to wrangle the carts from Economy to Premium Economy. And the legroom is enough that you can stretch out throughout the flight — I was barely able to get my foot on the bulkhead.

Speaking of the bulkhead, it's a little different than normal and I'd just like to point that out. Normally the bulkhead is full height, meaning that there's no space under the seat in front of you to place your things (usually because there is no seat in front of you) so your things all need to be in the overhead lockers for takeoff and landing. With this bulkhead there's about a foot of wall missing on the bottom to allow you to slide your parcels underneath the Premium Economy seats in front of you. Definitely more convenient, and you might even think of it as getting a little bit of revenge for not clearing the upgrade list.

Row 21 has some of the same benefits, namely that there are only two seats on each side and therefore more privacy and legroom. But since there's no bulkhead they have the same seat pitch as the rest of economy. It's an improvement, but a minor one.

My biggest mistake with this flight wasn't the seats or the routing, but instead that only a few months earlier I had treated my wife to a trip to Paris in AA's Business Class lounge, complete with admission to the Flagship lounge in Miami. As a result while we were sitting in these perfectly acceptable seats my wife was watching through the curtain at the improved meals in the cabins in front of us and demanding to know when we can do that again.