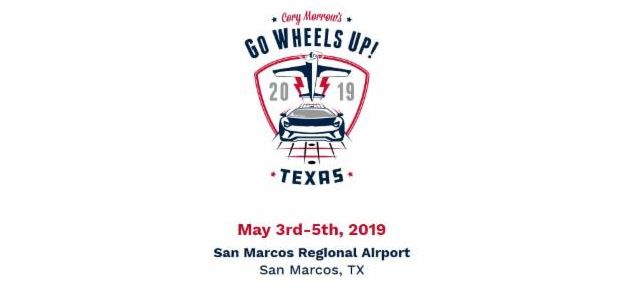 It seems like I'm the last one to know about cool air shows in the area, so when I heard about a new air show happening in San Marcos this coming May, I wanted to make sure I shared the good word as far and as wide as possible.
This is the first time this group has put on an air show, but all signs point to it being a potentially huge success. From the high profile acts they've signed up to the great central Texas location they've secured it sounds like a blast.
I've actually put together an article with some more details and a discussion of things like allowed items, parking, and some information for pilots. You can find that here:
Here's the details from their about page:
Hosted by Texas music icon, Cory Morrow, Go Wheels Up! Texas is a high- energy, family-friendly celebration of music, automobiles, airplanes and of course – Texas cuisine! Created for spectators from all walks of life, this uplifting and memorable weekend features an auto show, air show, concert series and food festival that's designed to grow the San Marcos Regional Airport into one of central Texas' premier event destinations.


Festivities start with a bang on Friday evening: The Go Wheels Up! Texas VIP Take-Off Party at an exclusive location on the airport grounds, features an invite-only concert by event host, Cory Morrow and a few of his closest friends. Sponsors and VIPs will have a chance to mingle with Cory and meet the extraordinary pilots performing throughout the weekend.


On Saturday, gates will open early and close late. An auto show featuring everything from exotic European super-machines – to straight-up American muscle – takes center-stage during the morning hours. Onlookers can gawk at more than 200 breathtaking examples of automotive engineering, while the competitors vie for best-in-class and best-in-show. All throughout the event, local and regional musicians will showcase the talent that's made central Texas famous.


Saturday afternoon, let the smell of Avgas and jet fuel fill the air as some of the most talented pilots from around the country take to the sky in a high-G, death-defying display of adrenaline and horsepower. From skydivers, to wild aerobatics, to military might spanning the last century, the air show promises to be one of the most unforgettable events of the year.


Don't go home just yet! As soon as the props stop spinning and the jets start to cool, the main stage heats up with performances by Morrow himself, joined by friends including some of the biggest names in the world of Texas Country and Rock & Roll.


Sunday morning kicks off early with more stunning roadsters and live music – but this time we'll sing skyward, as some of the area's most talented spiritual artists raise the roof at our Sunday Gospel Brunch.
Early afternoon it's WHEELS UP! once again, as the airshow launches into the wild blue for another jaw-dropping display.


All throughout the weekend there will be numerous activities for children & families, as well as fantastic food with a focus on local vendors and stalwart Texas culinary traditions.


With an expected weekend attendance of more than 30,000, GoWheelsUp! Texas promises to be a tremendous boon to the economy surrounding the airport and the city of San Marcos – for many years to come. Our team is projecting a first-year economic impact to the city of San Marcos of more than $2,500,000 with more than $120,000 going directly to local child-focused charities.


Announced just a couple days ago Bret Michaels will be the headliner for the concert.
More information and tickets are available at their website GoWheelsUp.live