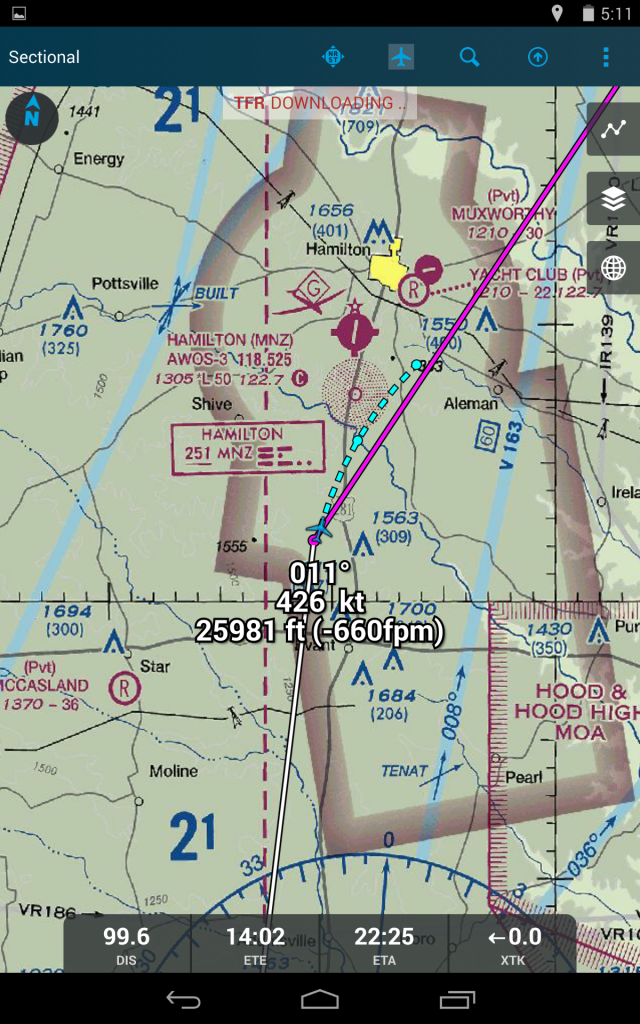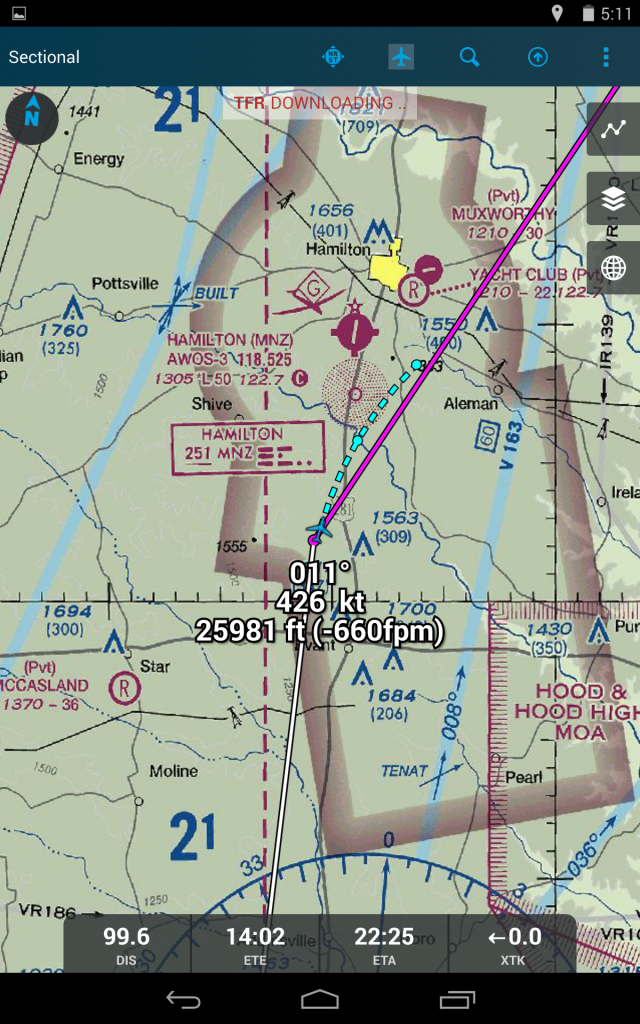 For the latest information, check the newer article at this link.
FlightPro was the very first aviation app I tried for the Android tablet. I love Android, and while it seems like most the aviation world is running on Apple devices I just can't justify switching over to the dark side. FlightPro is an app that sports all the planning, navigation, and situation awareness features you'd want from an electronic flight bag, and does it with a slick marketing campaign and fairly intuitive design. I've personally moved over to Garmin Pilot these days, and it seems like that move might have been a good idea. Because FlightPro has stopped putting out updates, and no one knows when they will resume.
FlightPro started life as Avilution, a different Android app whose code and developers were incorporated into the new FlightPro product. Apparently that integration process hasn't gone to plan, and the Avilution developers are not happy about something going on behind the scenes.
A letter from the General Counsel of FlightPro sent to all FlightPro subscribers illustrates their side of the story:
Dear FlightPro Users and Supporters,

When FlightPro was launched in April 2014, it was the culmination of the amazing work of many experienced pilots and other professionals to create the next generation, flight planning and navigation app. Since then we have released multiple updates and have many more planned that build on this vision, we are certain FlightPro has an exciting future ahead.

However, we have had numerous challenges over the past several months with our legacy developers from Avilution. This group struggled to support FlightPro's growth inline with our mission and vision, putting FlightPro well behind its planned development path.

Last week, in a deliberate act by the group, they refused to push out chart updates and misdirected users in where to submit support requests. This group's actions do not reflect the mission of FlightPro, and we therefore apologize for any confusion and inconvenience resulting from this.

Support will be back up and running next week including chart updates, with a dedicated support team that is excited and ready to get going to answer the backlog of questions and support requirements. Please continue to send support requests to support@flightpro.com

Our number one mission is to support our pilot community and your safety is a priority as we strive for the continuation of this mission.

Thank you for your support and your understanding.

Fly smart, fly safe —
Shane Gordon
General Counsel
Other users are reporting that requests for information or updates are going unanswered for days, and the now well out of date charts make the app pretty much useless for anything besides VFR flight.
FlightPro is a very new app, and doesn't have the kind of established development team and user base that some of the other aviation EFB apps have. So an issue like this so early in their development could prove disastrous for both their reputation and their bottom line.
Android based aviation related apps have had a rocky time. Garmin Pilot was out of commission for a few weeks recently as well due to incompatibility with the latest version of the operating system and newer devices. Apple's iPad seems to remain the king for reliability for now, but with more Android devices in the world than Apple devices its only a matter of time before Android's aviation apps are up to snuff as well.