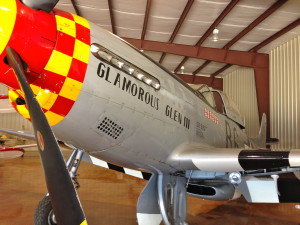 I recently took to the cold waters of the Frio near Concan, TX as part of a boy's weekend, but found that supplies had run low (as they sometimes do). Uvalde being the nearest source for groceries and beer, I loaded up in the truck and headed south. A funny thing happened on the way though. You see dear reader, Uvalde's Garner Field (KUVA) is  absolutely one of my favorite airports to visit. And even though it was not on the way, I had to stop.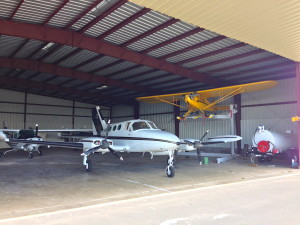 Originally opened in October 1941 to train pilots for WWII, it was inactivated after the war was over and became Garner Field. AirNav says there are an average of 34 operations/day which means there's a good chance to see some takeoffs and landings. Fall weekends are also a great time to see a ton of airplanes on the ramp as the Uvalde area is home to quite a few hunting ranches.
At her peak in WWII, Garner had three runways, each 6000 feet. Today, there's a single runway 100 feet x 5256 feet. With self serve fuel for less than $5.00 ($4.87 for 100LL) from Uvalde Flight Center, along with courtesy cars, ice, coffee, bathrooms, and all the nice things, KUVA is a great place for pilots, not just aviation obsessed men. But the absolute best part of KUVA is at the Northeast end of the field.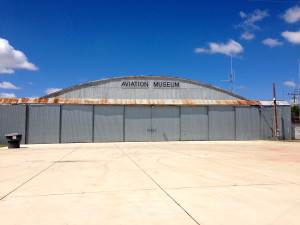 Behind this door is a great museum which showcases the history of Garner Field including some aircraft and memorabilia from WWII. Its a bit dusty, but well worth the trip to see some classics.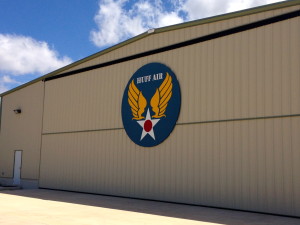 Across the way is the hangar door with the big "Huff Air" sign which houses the collection for Wild Warbirds, a division of the Sierra Industries conglomerate of companies. Run by 25 year old President, Conrad Huffstutler, Wild Warbirds maintains a P-51, T-28, T-6, Siai Marchetti 1019, Waco YMF-5, and J-3 Cub, as well as a few other general aviation aircraft. If you have a warbird in need of service or restoration, Conrad and his team are happy to help as well. The real star of the collection is Conrad's newly finished Wildcat which debuted at Oshkosh 2013.
I happened to arrive just as the hangar door was closing and Conrad was heading out to get some lunch. He saw me taking pictures of the hangars and asked if I wanted to see the Wildcat up close. My feelings of guilt at delaying his lunch lasted about 4 seconds given the level of excitement Conrad displays when describing the restoration of the Wildcat.
 Conrad is worthy of my (and your) jealousy given his enviable position. He's 25 years old, restoring/maintaining warbirds, and living in one of the prettier parts of Texas. He's also a generous and kind guy for letting me wander around the hangar and ask all kinds of silly questions while he delayed his lunch.
Whether pilot or land based human, make some time to head out to Uvalde some weekend. The drive is beautiful, the people are kind, and the airplanes are absolutely top notch. And if you fly in, be sure to buy some cheap gas to stimulate the local economy!
 Happy Flying!