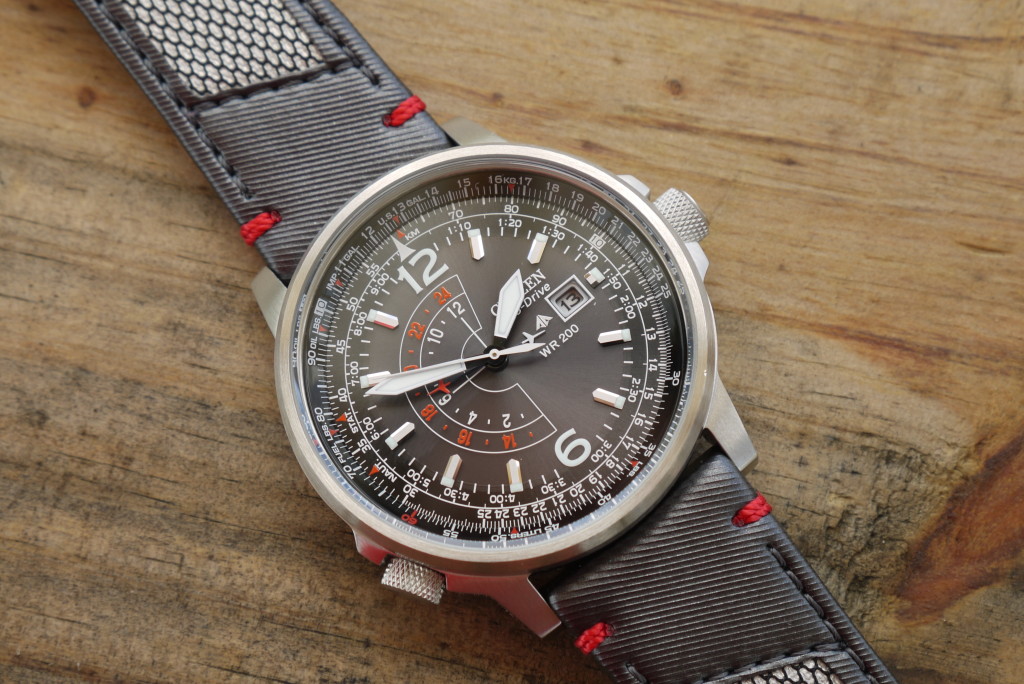 There are a few things that I never leave home without, and a good watch is high on that list. For just about everything that you do in the air, time is a valuable commodity and measuring it is essential — whether you're doing a timed 180 degree turn out of a cloud bank or just trying to get the plane back on the field before your rental window closes, an actual physical chronometer is a handy piece of equipment. I've been looking for an aviation specific watch for a while now, and I think I may have struck gold with the Citizen Nighthawk.
Let's go over the features, and I think you'll come to see my point of view on things.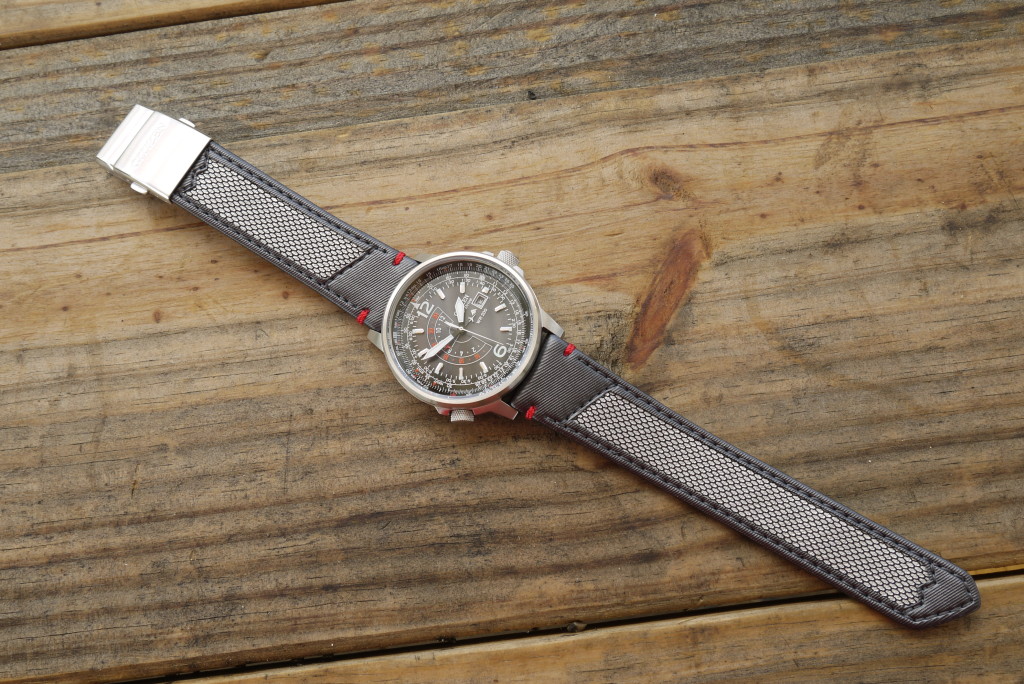 The general color scheme for the watch is a black background with white hands and lettering. There's some red accents thrown in for good measure, but much like a Jackson Pollock painting the trick is figuring out when to stop. The watch face itself is fairly clean and easy to read quickly, and the simple color scheme means it matches with just about any clothing. If you care about such things.
The watch case is a generous 42mm in diameter, which is actually a touch smaller than some of Citizen's other offerings in the men's watch department but still very easy to read. The band size is 22mm for those looking to replace the strap (like me), and the case is water resistant to roughly 600 feet which will keep it dry for most of your normal aquatic activities.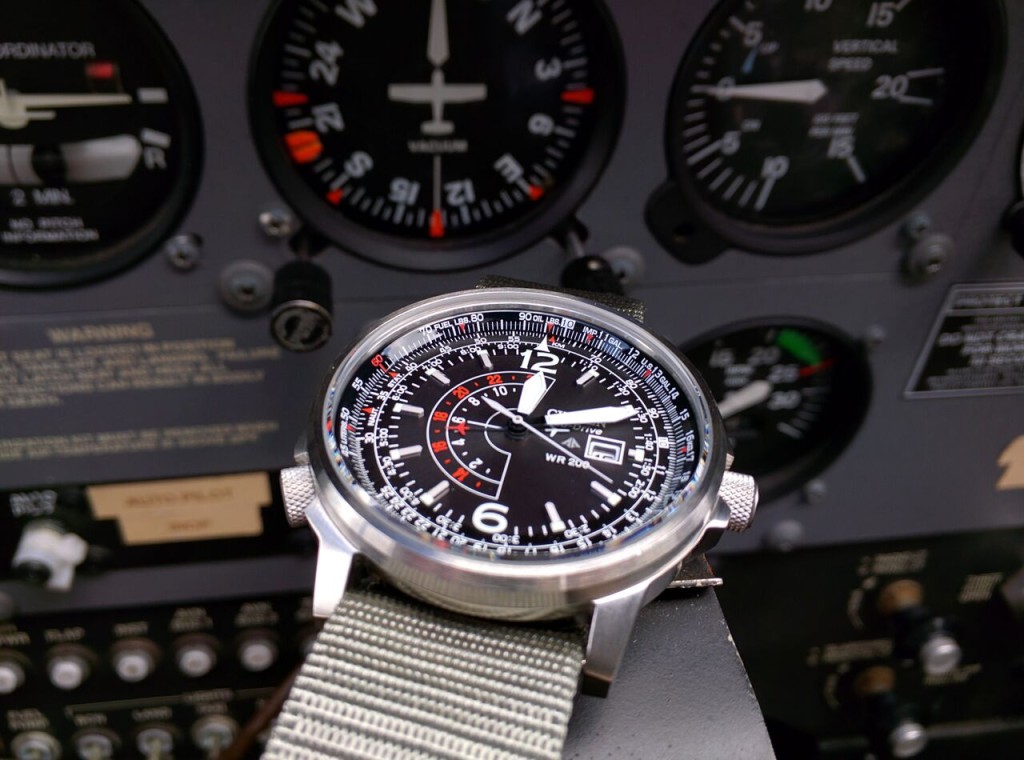 Form is important, but function (to me) is paramount. Thankfully this watch has three nifty design features which make it very appealing to pilots in particular.
A highly visible second hand is one of the first features I noticed, and something that I require for every watch that I buy. That trend started back when I was a volunteer EMT, as an analog second hand was much more intuitive and useful to me while taking someone's pulse than a digital watch. There's no math involved, just geometry — 30 seconds is 180 degrees of movement and so forth. On this watch the perfectly white second hand stands out extremely well against the dark black background, and the chunky blocks in five second increments give a perfect reference point to make geometry based timing like that possible and easy.
I tried this out in practice, and the watch performed admirably. I'm an instrument student pilot, and the lesson of the day happened to be all about holding patterns and timed turns. I used the watch to keep time, and it was easy and intuitive to use even while under stress.
Another great feature that I've found very useful is the ability to display the time in two different time zones. You can configure the watch to use one time zone for the big hands, and then a smaller inner display (the red and white half arcs on the left side) can be configured to show the hour in a completely different time zone. I've got mine setup to display CDT on the main hands, and UTC for the secondary hour display so I never have to convert the time again when calling Flight Service. The wearer can then later reset the larger (primary?) hands for changes in daylight savings or time zones without stopping the watch or moving the smaller (secondary) display, which is very useful indeed.
There's also a date indicator and the hands (as well as the little tick marks) glow in the dark, which is nice.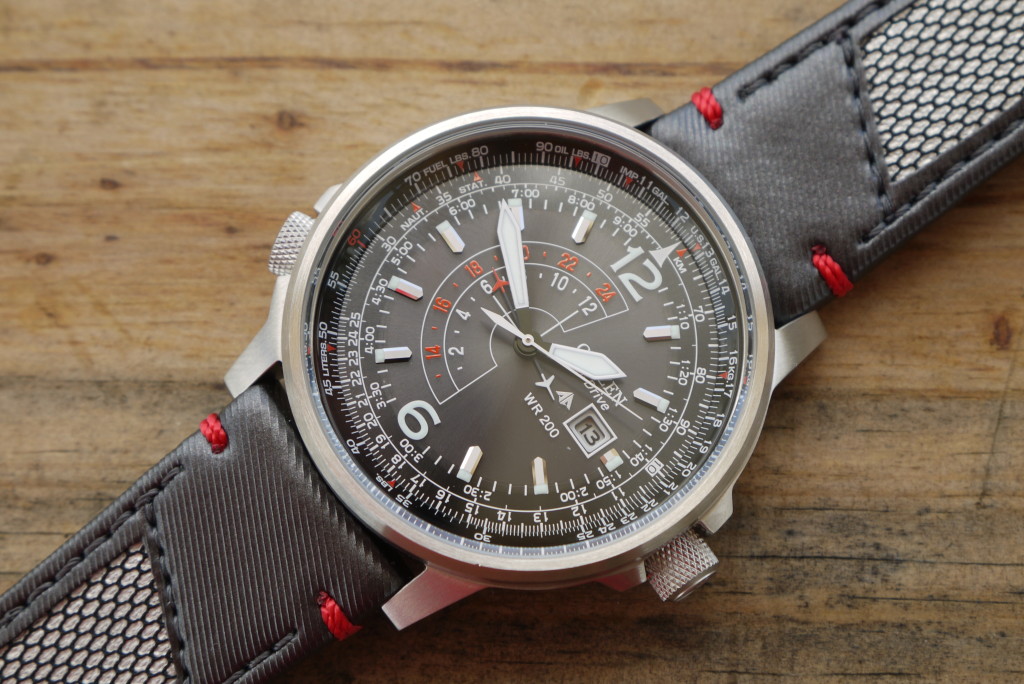 Without a doubt, the coolest feature of this watch is the fully functioning E6B whiz wheel on the bezel. The same 1930's era computational power that you fondly remember from flight school is now available right on your wrist, which is really cool. Want to do some time and distance calculations? How about fuel consumption? Or perhaps unit conversion from nautical miles to kilometers? All this is possible with the twist of the secondary knob at the 8 o' clock position. The only strange thing is that the interface is reversed — the outside bezel moves while the inside stays stationary. There also isn't a handy cheat sheet, so you'll have to remember how to do all the fancy stuff from memory.
In flight, this really isn't all that useful in my experience. The numbers are too small to see in a small airplane while in flight, and operating the mechanism takes some finesse (which isn't available in the wonderful bumpy world below 10,000 feet). But really, if you need an E6B, you probably have one in your flight bag. To me, the little whiz wheel on the watch isn't for you — it's to show off to your friends and confuse them with math. But if you can get the hang of using this miniature version, then that's another actually useful feature and not just a gimmick.
If I could add one criticism, its the lack of a stopwatch functionality. Being able to hack your time at a specific moment would be nice, but the constantly moving second hand does provide enough functionality to get the job done.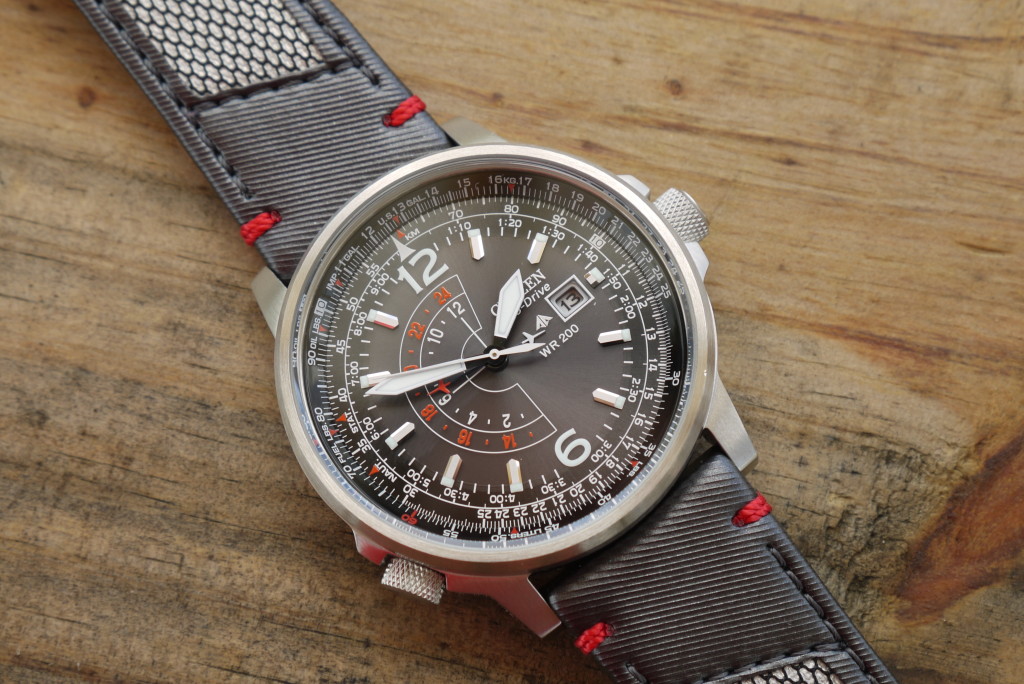 I like it. The actual useful features of the watch are great, namely the extremely visible second hand and the ability to show both local time and UTC. And the added features (like the whiz wheel) add enough cool factor to make this a really interesting timepiece. Useful enough to actually benefit a pilot, but not as cluttered as I've seen other pilot focused watch designs. Simple, elegant, and useful.
Citizen Promaster Eco-Drive Nighthawk
Diameter: 42mm
Band Size: 22mm
Waterproof: 600 feet
Movement: Eco-Drive B612
MSRP: $450
Amazon: $189.98 (LINK)
Overall: * * * *
The MSRP is a little high, but you can find it on Amazon for significantly less (linked above). It has all the things you'd want to see in a good pilot watch, and the best part is they knew when to stop and leave well enough alone.