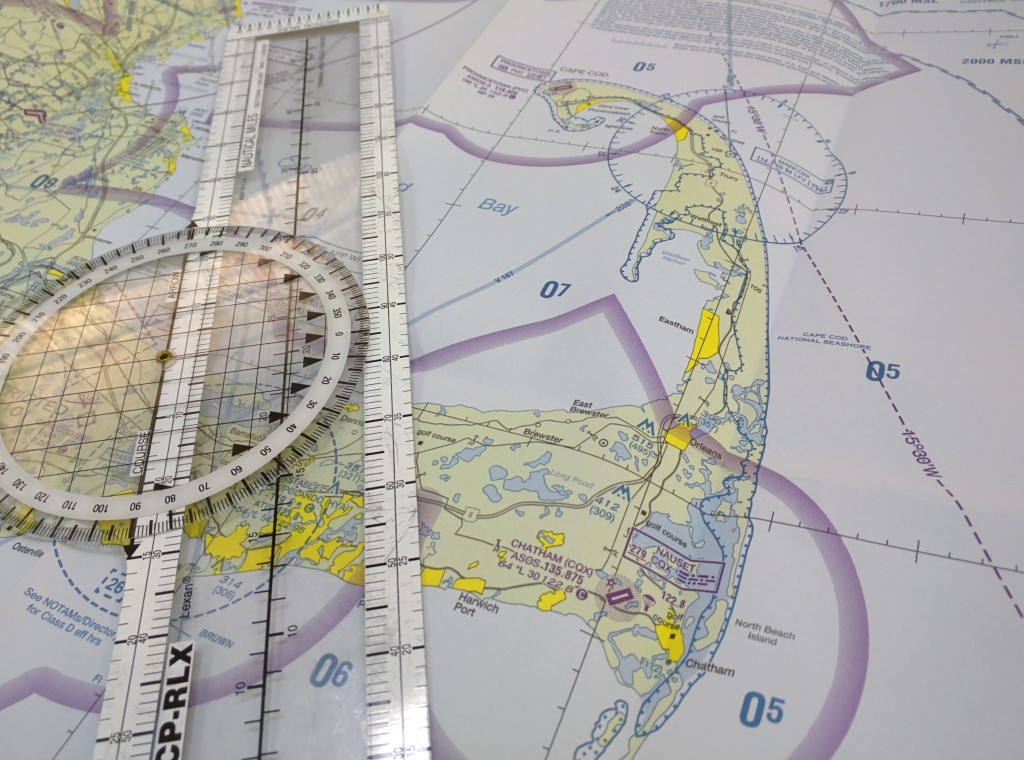 My parents are aging hippies looking to retire. So naturally, they have gravitated towards Wellfleet, Massachusetts. They bought a house up there with the plan to eventually move in and live out the remainder of their days among other Grateful Dead fans, and in a few days I will be heading up to join them for Father's Day weekend. ever since I passed my OpenAirplane check ride I've been using every opportunity to fly in new and interesting places, and with any luck this weekend will be no different . . .
The FBO
I knew I wanted to fly around the Cape Cod area for months now, but the first task was finding a suitable place to rent an airplane. I had looked on Open Airplane's website back when I was first getting my PPL and noticed that the closest FBO was some shop on the mainland, a bit of a hike from the house in Wellfleet. Flying out of there was possible, but it would have used up a good chunk of gas and time that I'd rather not use. Luckily, when I looked again recently I saw that an FBO at Chatham Municipal (KCHX) had signed up and was offering a beauty of a 172 for rent.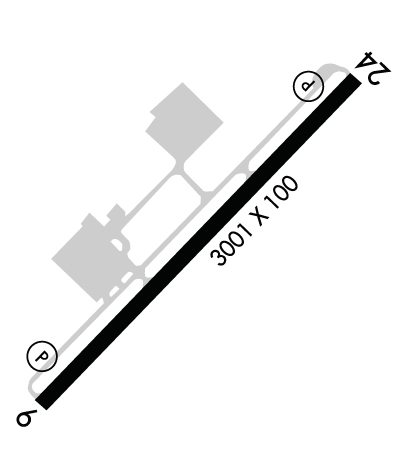 KCQX is a small airfield with one 3,000 foot runway near the outer Cape. There isn't a lot of terrain anywhere on the Cape, and KCQX is no different. Surrounded by not much more than a few tall trees and only 64 feet above sea level, its just about as flat as the Texas sky in which I trained. In other words, it is perfect for my purposes.
My biggest concern when it gets closer to the day of the event will be the wind. With only one runway, a crosswind landing will be pretty much assured. The only question will be how hard the crosswind will be blowing, and if its too hard I might have to scrub the flight. The maximum demonstrated crosswind capability of a Cessna 172 is 15 knots, but anything close to 10 and I'm going to start having concerns.
Flight Plan
For the last year or so, my Mom has been wanting me to take her on a tour of Cape Cod from the air. Its a beautiful chunk of land, and I have no doubt that it will be even more beautiful from the air. This particular weekend I'll also be joined by my Dad and my aunt, for a total of four people who all want a ride. Even though the 172 has four seats and I've been dropping some serious weight recently, that's a little optimistic — the plane is good for about three adults, and even then it might be pushing it a little bit. So I'll have to make two trips to get everyone up and around, which shouldn't be too bad.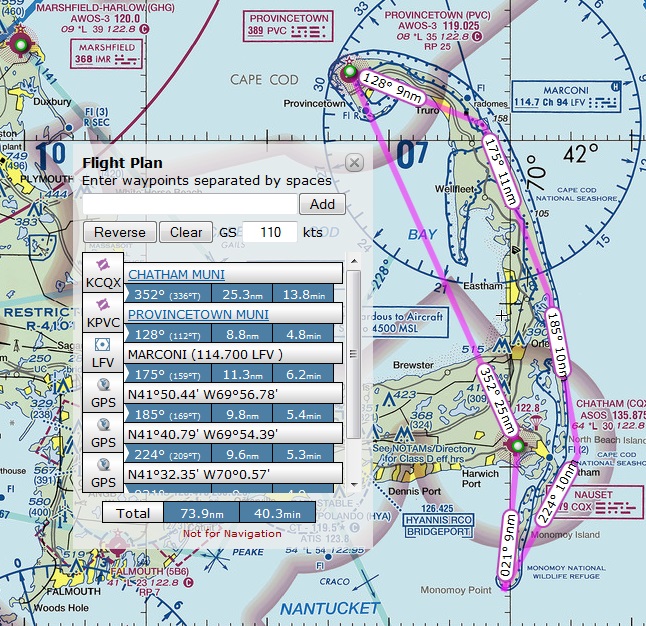 My general plan is to do a clockwise loop around the Cape, giving the passenger side of the plane the best view while I focus on the road ahead. There are some shipwrecks visible from the air as well as some great sand dunes, so it should be a heck of a show. I calculated that it should take about 45 minutes per trip, putting the total flight time (~2 hours) well within the range of even the smaller tanked variants of the 172.
One possible wrench in my plans: Dad wants to do a circle above their house. I'll have to see how busy the airspace is before making that call, but a quick turn-around-a-point with the house shouldn't be too hard to accomplish. I just need to remember to maintain my distance — and my airspeed. I remember reading about a student pilot who crashed because he was doing steep turns over his house, and I definitely don't want to repeat that bit of history.
Airspace
While Cape Cod is very close to Boston and the busy Boston Logan International Airport (KBOS), it is thankfully just outside the Mode C veil and far enough away from everything else to be a beautiful chunk of Echo and Gulf airspace. In other words, I wouldn't need to talk to anyone or get any clearances to make the trip. Much different from my last OpenAirplane adventure.
I do actually want to talk to someone, though. The Cape Cod area is serviced by Cape Approach on 118.2, who can give me flight following throughout the flight. That's very useful for things like traffic advisories and emergency services, should they be needed.
Air traffic around Cape Cod seems to be pretty light, but there are some big attractions nearby. Nantucket and Martha's Vineyard are very close to the south, and with a major airport on each island I'd expect to see some increased traffic around the southern end of the flight. There's also a regularly scheduled air service from Barnstable and Provincetown airports, so I should probably keep an eye out for any departing or arriving traffic when flying near those places.
The biggest challenge will probably be the National Seashore. Since its a protected national park, I'm required to maintain 2,000 feet above the surface at all times for noise abatement. The trick will be getting low enough to give the passengers a good view without going so low that I lose my license. I'm thinking about staying pretty much at 2,500 feet the whole time, which should keep me in good stead.
Weather
Right now we're still about a week out from the flight, so the weather forecast won't be as accurate as I would like. However, the current forecast is calling for clear skies in the morning with partly cloudy skies for the remainder of the day and a high of 68 degrees. That's pretty much perfect flying weather, assuming the clouds aren't too low. The forecast for the following day calls for thunderstorms in the afternoon, so I'll have to keep an eye on the situation and see if that schedule moves up and starts to impact the flight. I'm not as concerned about icing as the last time I flew on the east coast, but thunderstorms still have a way of ruining pilot's days.
Things To Remember:
Flight bag
GoPro and RePlay XD Cameras (charged!)
Updated weather
This is gunna be fun!