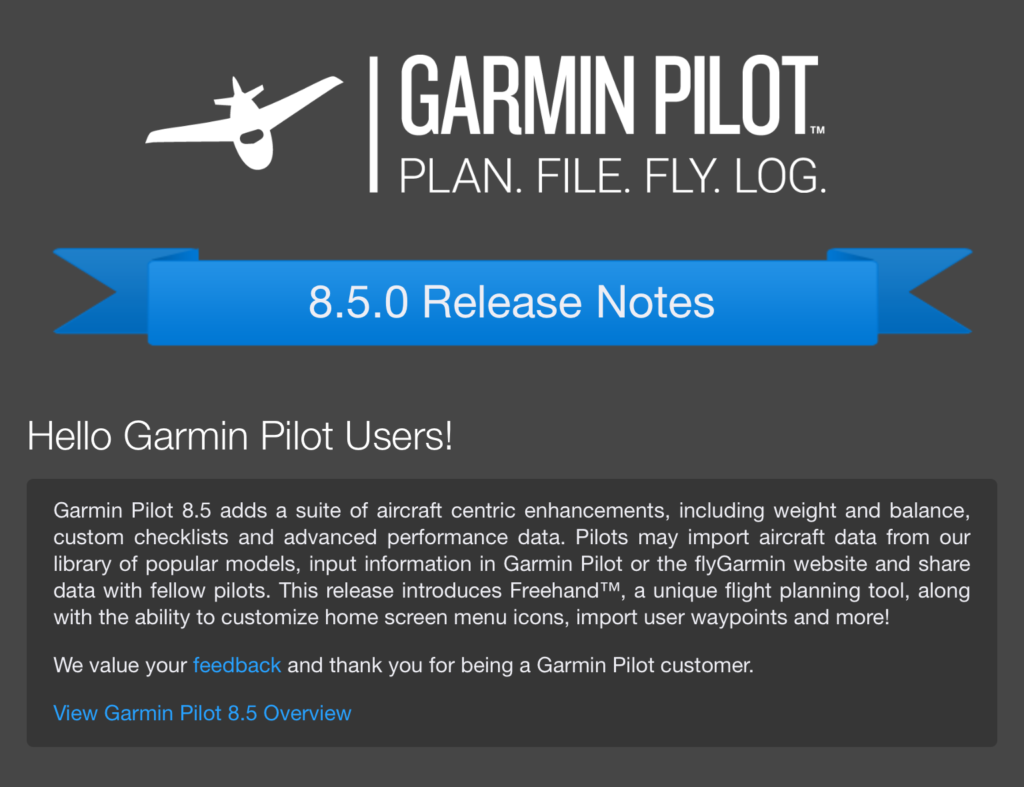 Garmin Pilot must be feeling the pressure from ForeFlight. In the last couple months they have significantly upped their game and released a ton of new features which, in my opinion, have not only closed the gap but actually put Garmin Pilot in the lead. I'll do a head-to-head comparison sometime in the future but for now let's take a look under the hood at the two latest additions.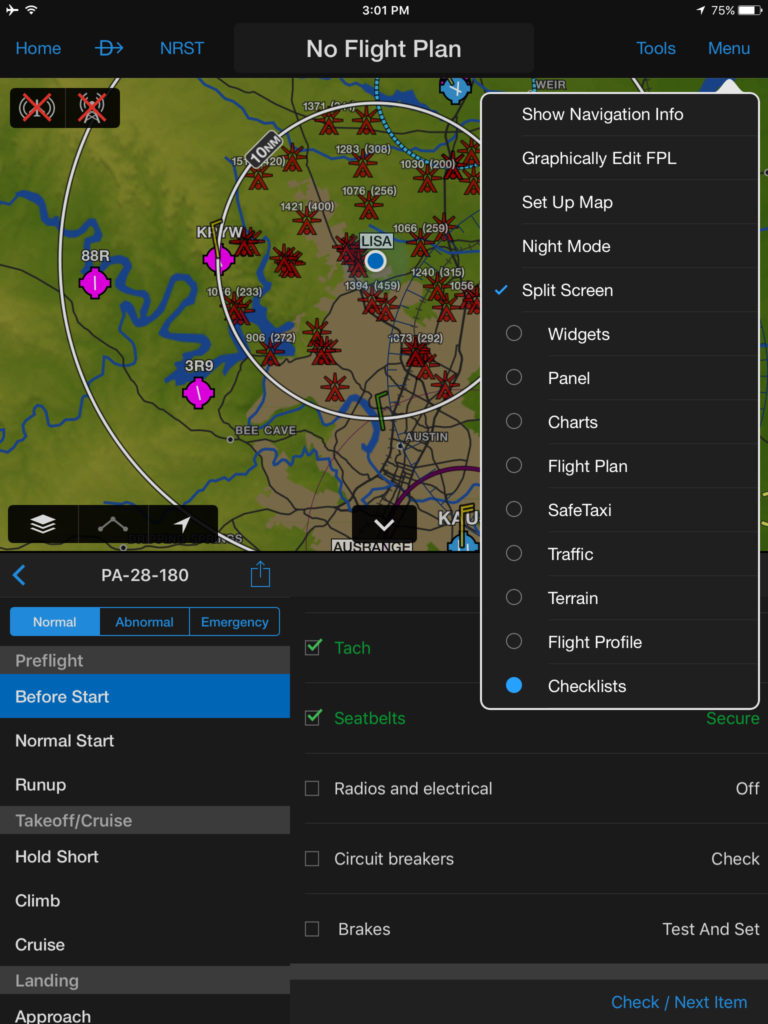 Something that has been sorely missing from aviation apps is the ability to have an integrated checklist system within the app itself. I've been looking for a good paper chart replacement but so far all of my efforts have been in vain. Now Garmin has added that feature into the navigation app itself so there's no need to fiddle with pieces of paper or flip from one app to another.
The workflow is pretty solid. You tap each item as you complete it (or your copilot taps while you respond), and when finished a green check appears next to the header on the left and the app rolls on to the next checklist to be completed. Checklists can be edited for your preferred verbiage and to add any items that might have been missed on a paper list.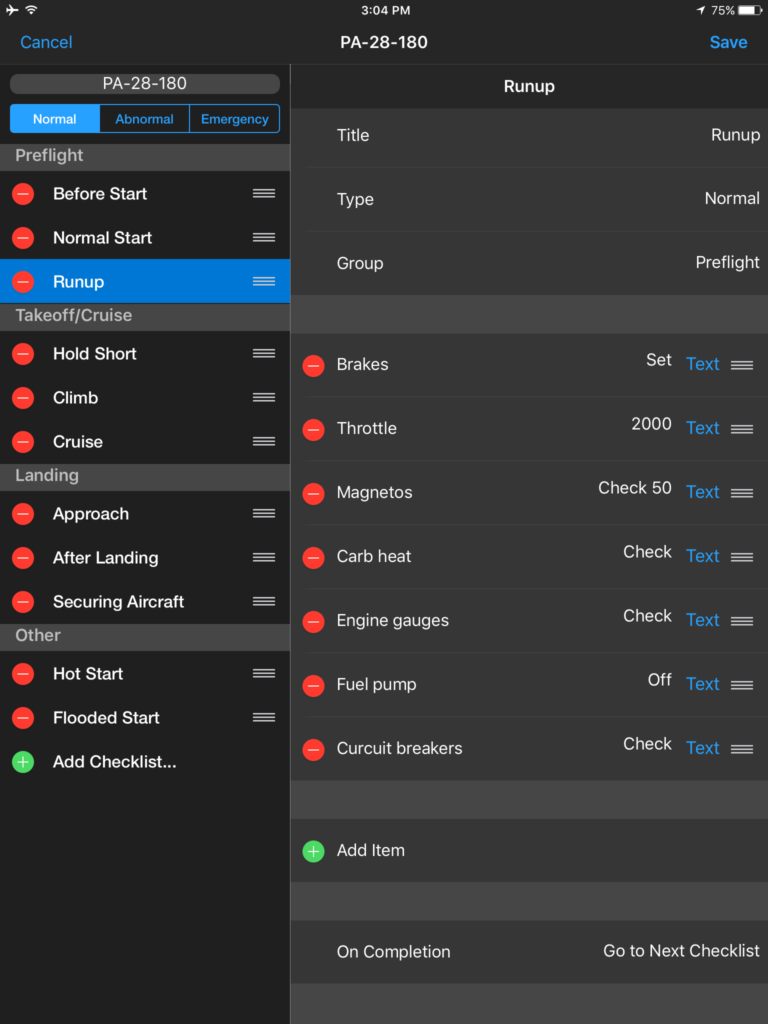 Issue #1 is that there are only so many checklists loaded by default — Bonanza, Cessna 150, 152, 172N, 172S, 182Q, and of course Cirrus SR20 / 22 / 22T. If I were still flying the airplane I got my private and instrument rating in I wouldn't have an issue, but flying a 1963 Piper Cherokee PA-28-180 the checklist naturally isn't on the list. Which isn't surprising since the POH doesn't have any checklists either — they are written directly on the dashboard. The end result is that you're probably going to need to either customize an existing checklist to fit your specific aircraft and avionics setup or you will need to create a new one from whole cloth.
And hence issue #2. The GUI for editing these checklists is about as intuitive as you could hope and right in line with everything else Garmin Pilot does, but using it takes forever to actually document each and every step. That said, some of that pain can be alleviated through the Fly Garmin website.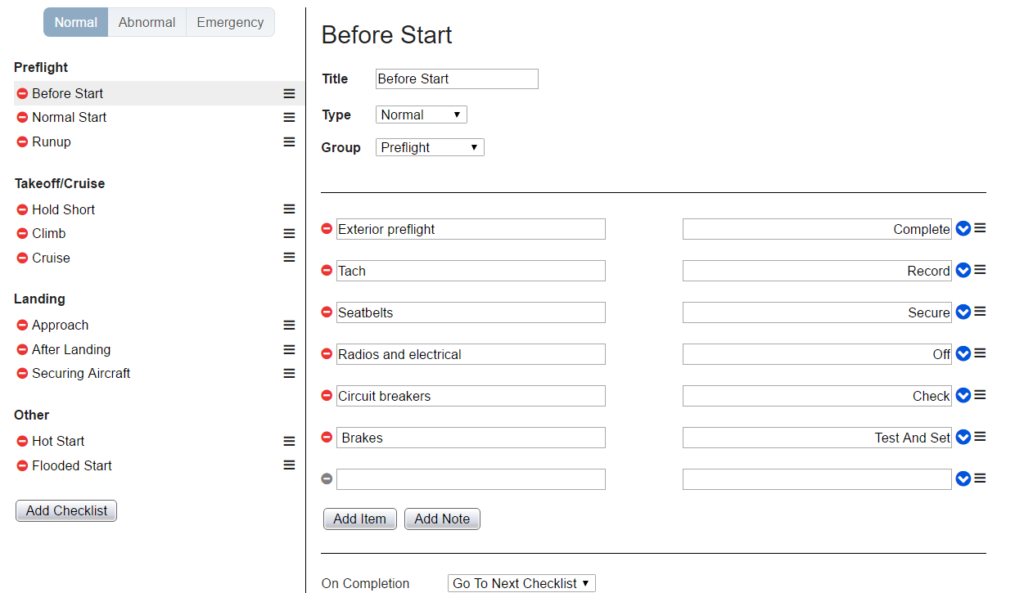 As I was typing this up I was about to lay into Garmin for once again missing an opportunity to use the FlyGarmin website and integrate it with the app, but I figured I should give it a shot first and hey it actually works! That feature isn't listed anywhere, but there's a way to get into your aircraft profile in FlyGarmin and configure your checklists from the comfort of your home computer. There's no way to download it and edit a flat file locally but that's still more than I expected.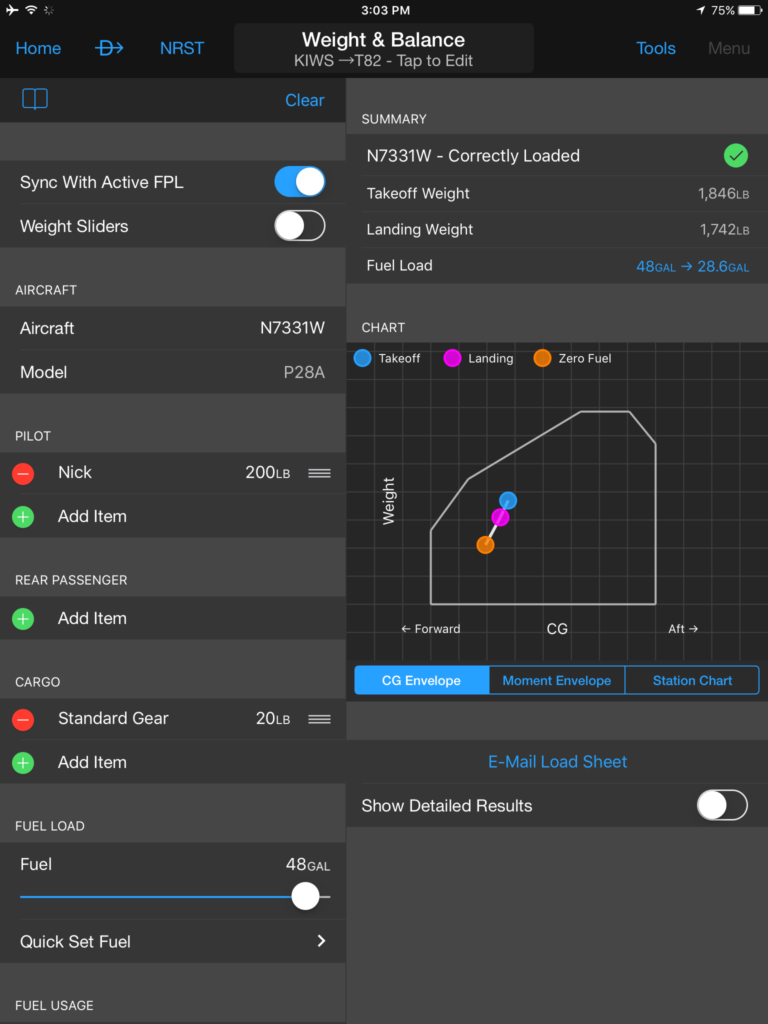 The second new feature is the introduction of weight and balance calculations. For the average pilot who just flies himself and maybe a friend in the same plane with the same weight and balance calculation every single time it might not be very useful, but when you are doing a long cross country with your girlfriend and trying to figure out if we can pick up an extra case of wine it definitely comes in handy. You can define CG envelope for your aircraft and then add weights at different stations as the situation requires, and in the background the app will compute not only your takeoff weight and empty weight but also your projected landing weight based on the flight plan and current winds aloft. In short, it does everything except takeoff and landing distance calculations.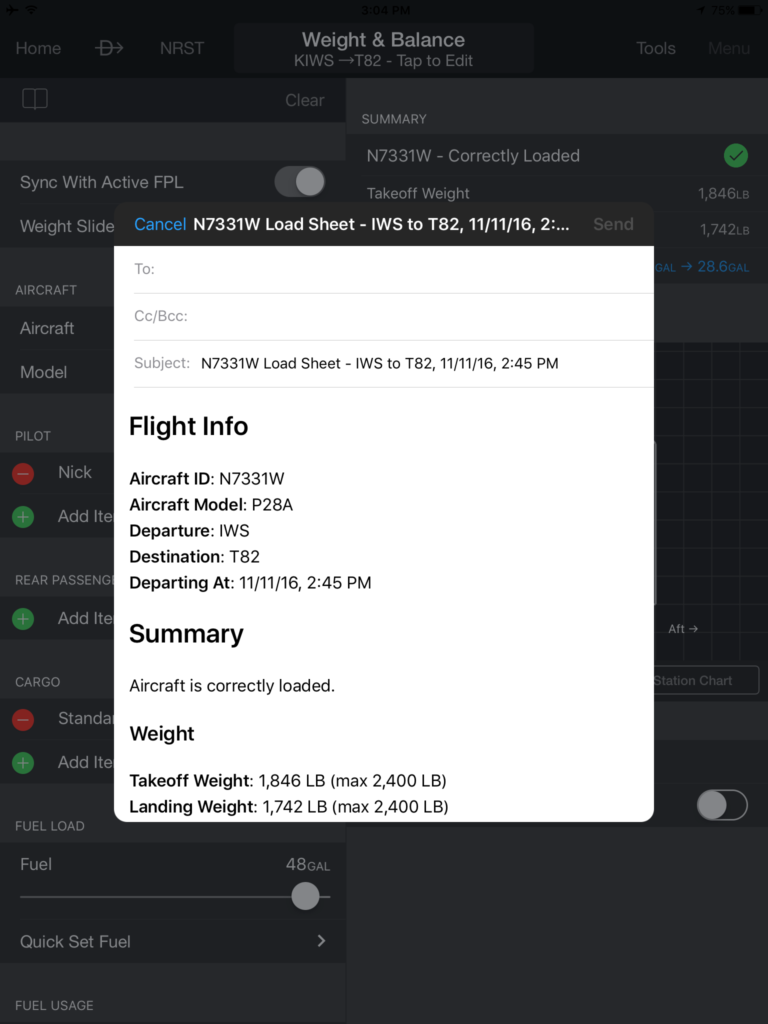 Going a step further for those who are running commercial operations or CAP missions (or very nervous girlfriends) the app will generate a summary email which you can send wherever you need to alert anyone of your weight and balance situation. I like it, and it should make alerting my flight release officer that I'm ready to go a little easier too.
In short, Garmin Pilot is doing things right. On the iPad, at least. The Android version still doesn't have either of these features. Nor does it have the flight profile view, or many of the other new features rolled out in recent months. Heck, Android users just got the update where airspace will display the vertical dimensions on their VFR and IFR charts. One day the two might be in sync. Until then, buy an iPad.