I rent my wings, which means that I need to truck all my aviation related junk to and from the airfield with me every single time I fly. I tried using a range bag that I had acquired through my alter ego, but it wasn't the most elegant solution. To make that process easier I wanted to see if there was a better bag out there that would give me quick access to all my gear while in flight yet contained enough to not take up my entire trunk. After going through a few different bags, I finally settled on my #1 choice: the 5.11 Rush 12 Back Pack.
NOTE: This bag is shown as I have it configured for my flying, which means full of gear and with some extra pouches attached. Bag does not come with the external pouches, nor the gear, nor the business card holder on the front. FYI.
As a shooter, I know the 5.11 brand well. Their stuff is typically top-notch compared to the rest of the mass produced "tactical accessories" crowd, and I've tested the ever-loving heck out of some of their other gear so I know its quality kit. Their EMT pants, for example, I used daily when I was working as a 911 dispatched EMT in Virginia. So when I saw that they had a segmented backpack available for under $100 that looked like it fit the bill, I was intrigued enough to plunk down the money and buy it.
Let's take a quick walk through the features of the bag.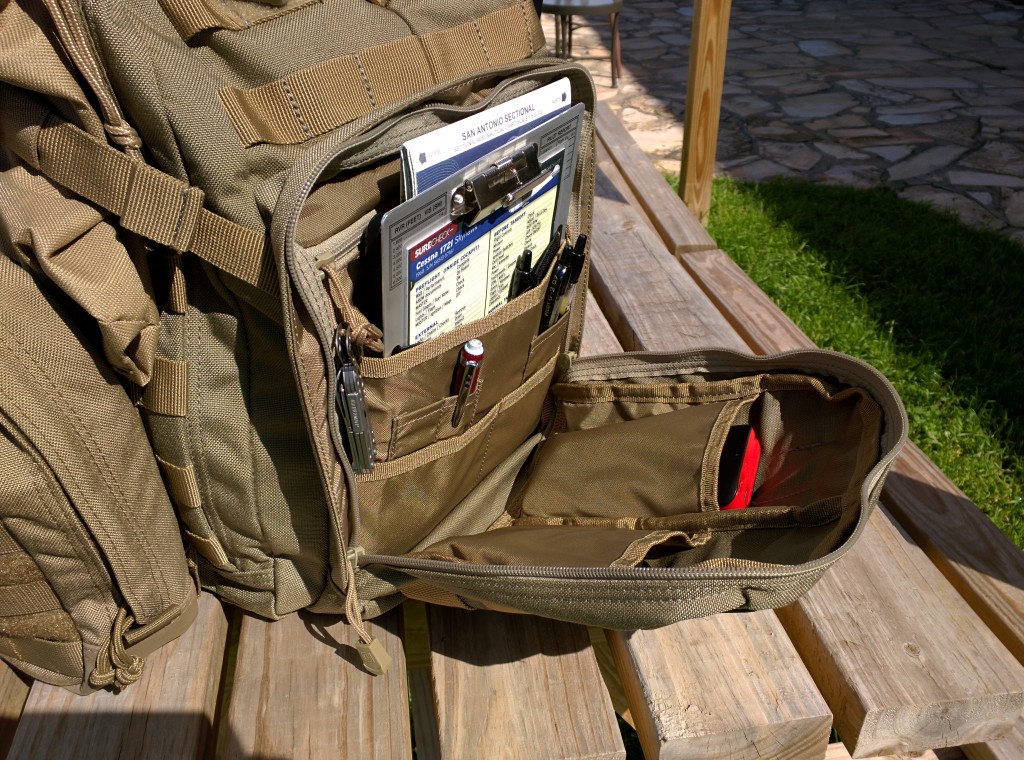 Starting in the front, there's a thin pocket perfect for flat-ish things. Things like a kneeboard, a sectional, and a tablet — the pocket fits all of these things perfectly with room to spare. Sewn into the front of the compartment are two narrow pockets, which are perfect for things like a spare USB battery and some USB cables. Or a fuel strainer. Or a spanner. You know, useful stuff.
There's a ton of options for how to organize this section. There's a zippered pocket behind the sectional there that I'm not even using, but would be useful for important papers and such. The compartment might seem small, but it can hold a ton of stuff.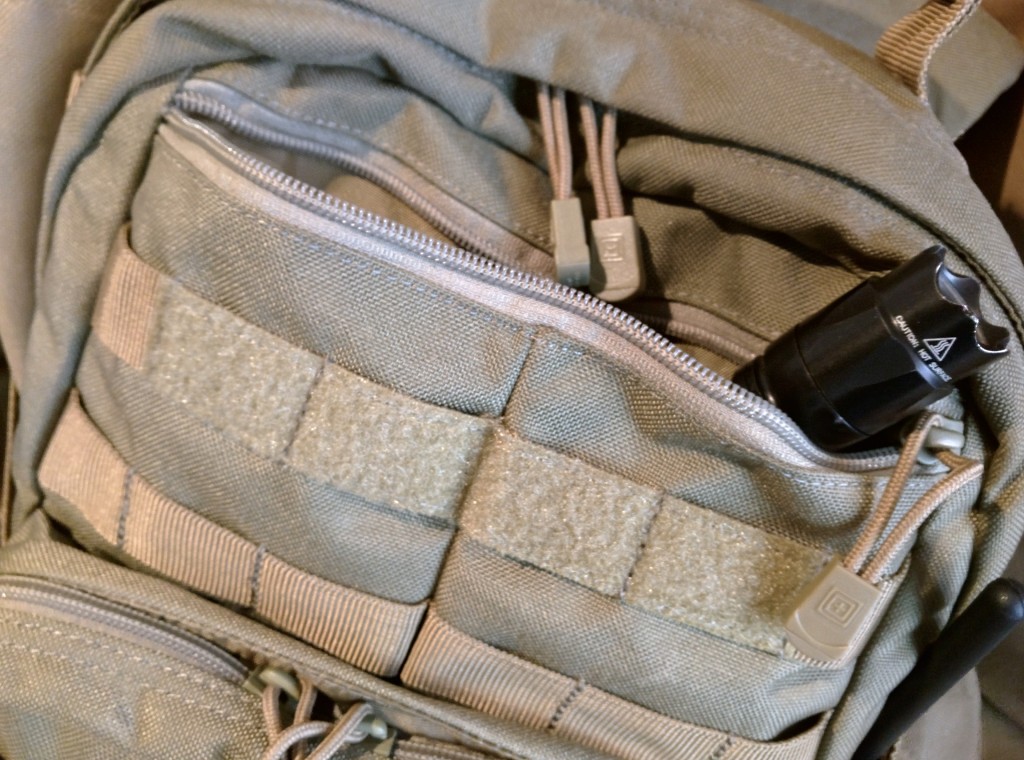 Just above that on the front of the bag is a very small pocket sewn into the front of the bag. Its big enough for a flashlight or some lip gloss, but that's about it. There's another pocket further up that seems intended for sunglasses, but the sunglasses I use don't fit.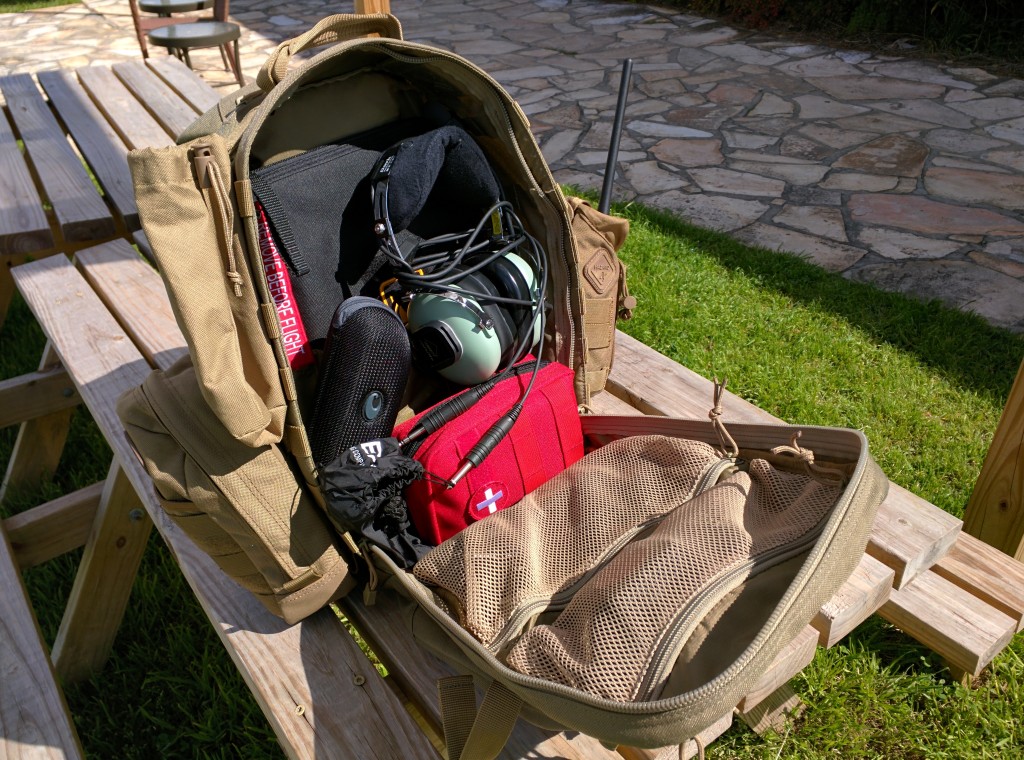 The real meat & potatoes of the bag is the main compartment. On the internet it doesn't look so big, but this compartment is plenty deep. I can fit a regular pair of David Clarks, as well as my sunglasses, and even a small emergency survival kit with space to spare. There's a small pouch at the rear that is the perfect size to keep my paperwork folder conveniently tucked out of the way.
On the front of the compartment are two mesh pockets, one small and one large. Need some cable storage? How about just a place to shove some Pop-Tarts for the flight? There ya go!
On the top of the compartment are two holes covered by Velcro covers. The covers keep any water from getting in if you get caught in the rain, but the holes allow you to snake something like the audio cord for your MP3 player out without needing to open the bag. I don't use it, but that doesn't mean I don't appreciate it.
Around the rear there's a pair of padded shoulder straps, but also yet another compartment. This one is kinda hard to reach, and can't hold anything besides flat stuff. It's perfect for sectionals that you aren't using and plotting equipment, things you'll need for flight planning but not something you'd need to quickly access in flight.
The internal compartments and capacity are nice, but the real selling point of the bag is what's covering the exterior. Those parallel lines of straps are called MOLLE attachment points, and allow the end user to customize the bag to suit their mission. If you need more space or just want a pouch that is easy to find and access, you can add it to the bag without breaking out the needle and thread. I've added three pouches that way, and knowing that I can customize the bag when the need arises is really cool.
Oh, and there's a Velcro strip for a name tape and a slightly bigger one for a name badge or business card holder. Which is nice.
Overall, I really like the bag. It has enough space to keep all the things I might need for a flight in one easy-to-carry container, organizes them in a fashion where I can quickly access them in flight, and does so in a rather stylish manner. For me, at least — my every day apparel is a style I've dubbed "business tactical." This is now my permanent flight bag, and for good reason.
Specifications: 5.11 Rush 12 Back Pack
Main Compartment: 18″ x 11″ x 6″
MSRP: $109.99 ($88.89 on Amazon)
OVERALL: * * * * * (5/5)
Tons of compartments, generous capacity, and the ability to further customize the bag to meet your needs. Perfect.