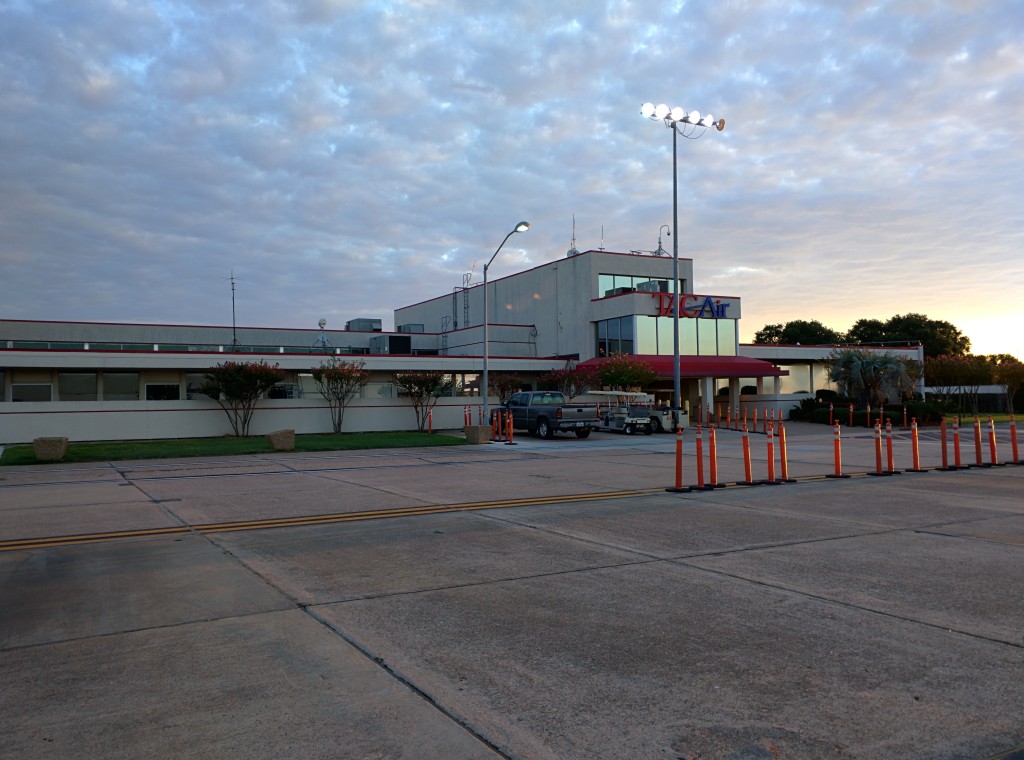 There are two airports located in Shreveport, Louisiana. The more convenient one for general aviation pilots is the Downtown Airport (KDTW), but the FBO there doesn't operate 24/7 and the tower closes at night. For those arriving late (as I was, arriving unannounced at 11 PM one night) or using larger aircraft Shreveport Regional Airport operates a tower and FBO that is happy to take you in no matter when you arrive.
Getting There
The airspace around Shreveport is Class C, with approach controllers available to ease your entry into the area. To the northeast of the field is Shreveport Downtown (KDTN) and then further east is a military airfield. The approach from the west is relatively peaceful.
For those on IFR flight plans, Shreveport Regional offers a full ILS approach for runway 14/32, as well as a localizer approach for runway 6. All runways are serviced by RNAV (GPS) approaches. There are no VOR approaches available despite a VOR being located very nearby.
Airport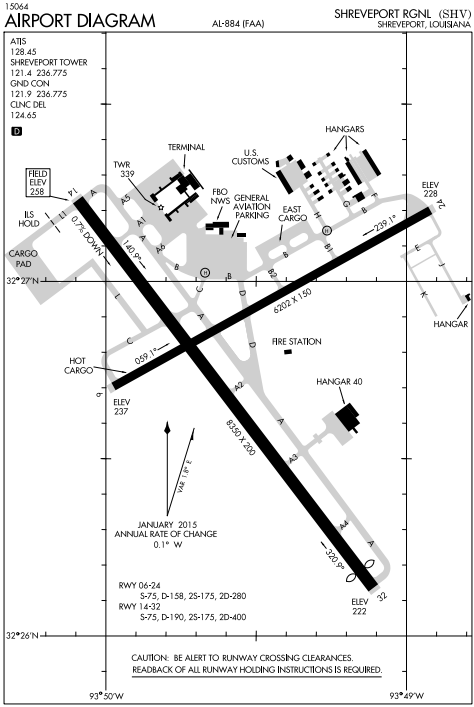 The longest runway available at KSHV is 14/32 at 8,350 feet. A second runway, 6/24, is available with 6,202 feet of space. The general aviation FBO is located dead center in the middle of the airfield, adjacent to the commercial terminal on the west side near the beginning of runway 14.
There's only one FBO, so confusion should be to a minimum when arriving and asking for taxi "to the FBO." I arrived without any advanced notice and found a spot for my airplane, and after checking in with the desk (there's a radio on the counter after hours to call for the night watchman) I was asked to move my airplane to accommodate other reservations (a couple jets and a 757). Nevertheless they still had space, and my little Piper found a tiedown for the night.
After passing through the FBO the commercial terminal is about 50 yards to the left through a small parking lot. You can either ask the FBO to call a cab for you and wait, or you can walk the 50 yards to the taxi line and pick one out for yourself. I'll leave you to figure out which one is easier and quicker.
FBO Facilities and Fees
The Fixed Base Operator for Shreveport Regional is TAC Air. They are ensconced in the old terminal building, which is a concrete and marble structure that looks more like a location in the city of Rapture than a modern terminal. Inside the FBO, the usual facilities are on offer. There's a flight planning room, a conference room, and a well appointed set of restrooms. Vending machines are available but only take dollar bills and coins.
Access to the flight line is available through a set of sliding doors, and once on the other side a golf cart provides transportation to your airplane out on the ramp.
Full service fuel is available at a very reasonable price. Tie downs are $10 per night for single engine airplanes such as myself, and landing fees as well as facilities fees are waived with fuel purchase. As with most classy joints you can settle up the entire sum when leaving.
In the Area
Shreveport is like the Las Vegas of the south. There are a cluster of casinos, which offer not only the usual games of chance but also some great music and nightlife. Or, if you're just passing through, cheap hotels and restaurants that are open late.
Travel to the hotels and casinos downtown is approximately 15 minutes, and costs between $15 and $25 depending on whether your cab driver rips you off or not. There always seem to be last minute deals available for the night, and I was able to snag a suite at one of the casinos for $70 for the night when I rolled in at 11 PM.
Departure
When you arrive, the FBO will ask about your intended departure time and have everything fueled and ready when you plan to leave. Aircraft are recommended to contact clearance delivery first for transponder codes and then ground for taxi instructions. There don't appear to be any run-up pads on the ends of the runways, so piston aircraft should perform their run-ups before calling for taxi. Unless you don't mind annoying the American Airlines jet waiting behind you for departure.
Departure out of Shreveport is serviced by Shreveport departure controllers who are more than happy to provide flight following.